KF-50 Clamp Overview:
The Quick Clamp KF-50 with Wing-Nut Assembly is used to connect vacuum plumbing and process systems in combination with vacuum pumps or vacuum components.The Cast Aluminum Clamps KF-50 or NW-50 Clamp is used in conjunction with a certering ring with a fitted O-ring for mating KF flanges.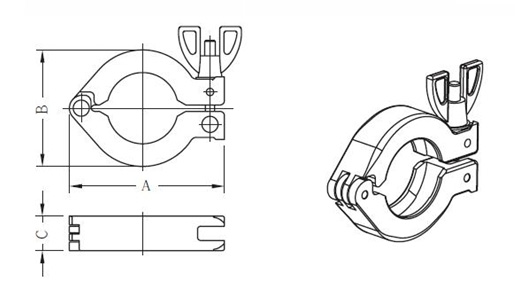 A: 4.49 in / 114 mm
B: 3.54 in / 90 mm
C: 0.79 in / 20 mm
Description:
KF clamp vacuum fittings comply with ISO-KF standards and are commonly used to construct pre-stage piping vacuum piping and processing systems. They are often referred to as quick flange fittings because they are assembled quickly. A vacuum seal between the circumferential clamp and the centering ring connection flange.